Ayers Rock Scenic Flight Options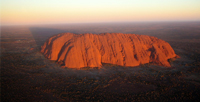 Rock only (ROC)  
Let us do the climbing for you! Get a birdseye view of this magnificent Australian icon. Truly great value for money.
$120 p.p | Approx 20 min flight
Book now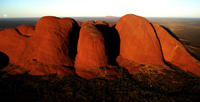 Uluru & Kata Tjuta (ARO)
Experience the beauty of these great Australian landmarks with an amazing aerial view. The incredible rock formations of The Olgas are a must-see from the air.
$240 p.p | Approx 40 min flight
Book Now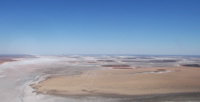 Uluru, Kata Tjuta & Lake Amadeus (ROA)
Fly over the Northern Territory's largest salt lake and witness the amazing contrast of colours. Fully experience the Australian desert environment, with the possibility to see wild camels.
$375 p.p. | Approx 60 min flight
Book now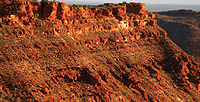 Uluru, Kata Tjuta,Lake Amadeus & Kings Canyon (KCA)
See it all! With its amazing sheer cliff walls and surrounding valleys, Kings Canyon is an awe-inspiring landmark best appreciated from the air.
$575 p.p. | Approx 120 min flight
Book now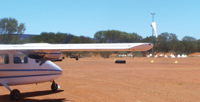 The ultimate outback adventure (KCS)
Embark on a flight that encompasses all the best sites of the red centre, viewing Uluru, Kata Tjuta, Lake Amadeus and Kings Canyon. This tour includes a landing at Kings Creek Station, an authentic country airstrip. From there enjoy the drive along the George Gill ranges to Kings Canyon for a one-hour walk.
$725 p.p. | Approx 6 hour tour
Book now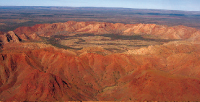 Gosses Bluff, Kings Canyon & Lake Amadeus (GBL)
This tour will take you over the magnificent Lake Amadeus and Kings Canyon before arriving at the spectacular Gosses Bluff. Created by a meteorite that crashed into the earth 143 million years ago, this rugged bluff surrounds a crater 5km in diameter and 150m high. It is an experience not to be missed.
$675 p.p. | Approx 3.5 hour tour
Book now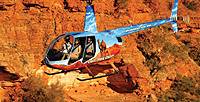 Ultimate combined Canyon experience (UCE)
Can't decide between planes and helicopters? Do both with this tour combining the best of both worlds! See Uluru, Kata Tjuta and Lake Amadeus from one of our high wing aircraft before landing at Kings Creek Station. Then, transfer to one of our helicopters for a half hour flight over Kings Canyon and the spectacular George Gill ranges. A stop at Kings Creek Station following the flight gives you a chance to refresh before your return.
$840 p.p. | Approx 6-7 hour tour
Book now
* Bookings can be made directly with our pilots, through reception, your tour guide or travel agent.
Credit Card and EFTPOS are welcome.
Important Notes:
Prices are per person, minimum numbers apply.
All flights are subject to pilot discretion, weather, air traffic control and aircraft availability. 24-hour cancellation notice required for full refund.
All flights are covered by airline passenger seat insurance.
Ayers Rock Scenic Flights will not accept any liability for failure to make connections with any other service.
Prices include GST.
Tours and price are subject to change without notice.
Most major credit cards accepted. Sunrise and Sunset flights available.
Tour agents are requested to provide a half hour buffer either side of the tour for airport transfers.
Prices valid from 1 April 2017 – 31 March 2018.
Tour Agents please contact Ayers Rock Scenic Flights directly for rates.
All Prices are in Australian dollars, includes GST and supersedes all prices previously advertised.